This award is presented annually to the member who best exemplifies what it means to be associated with the WMGA by demonstrating their integrity, enthusiasm for the game of golf, support of the association and the golf course, and quality of their golf game relative to their ability.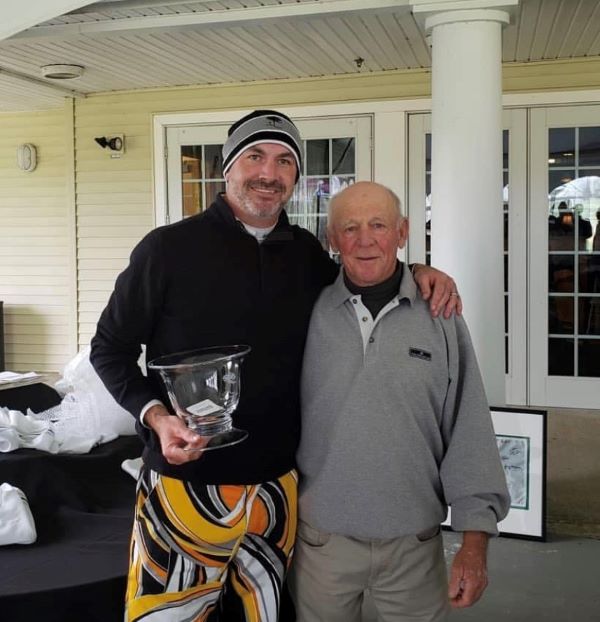 TJ why did you choose Wintonbury Hills GC as your home course?
My wife and I moved to Bloomfield in 2016 and one of the biggest selling points for us was the proximity to one of the greatest golf courses in CT. I have always enjoyed playing Wintonbury Hills for the exquisite layout.
When did you join the Wintonbury Men's Golf Association (WMGA)?
I joined the Wintonbury Men's Golf Association in 2017. When I joined the WMGA I was slightly apprehensive based on my previous men's clubs' experiences. It wasn't long before I realized this club and this group of men were different. During that season I really fell in love with all things Wintonbury.
For you, what makes the WMGA experience special?
Being a part of WMGA is so much more than playing golf. From the moment you walk into the pro shop, until you drive out, you feel a special connection with the folks you are around. I look forward to showing up early each week and having some real honest life discussions with who I now consider to be lifelong friends.
What events do you look forward to the most?
In my first year I had the honor of playing on the WMGA Ryder Cup team and it was incredible. Having played so many rounds as an individual, it was such an amazing experience to be part of a team and root for my fellow club members. I have had the pleasure of being on these Ryder Cup teams now for 2 years and it has become one of my favorite weekends of the year.
We (the WMGA membership) all love to win, but we (the WMGA membership) all love to see others win and up their game from week to week.
What does it mean to you to be the Bill Starkie Award winner for 2018?
This past season, I had the privilege to be the first recipient of the Bill Starkie award. This meant so much to me after getting to know Mr. Starkie and playing a few rounds with him. Bill is a true gentleman of the game and a wonderful, funny person to be around. I hope, that I can be as good of a man as Mr. Starkie and help to elevate the WMGA.
Who is your dream foursome, and where are you playing?
Tiger, Phil, John Daly and I playing the Ocean Course at Kiawah Island.
Any final thoughts?
If you are looking for a top-notch course to play on a weekly basis with some of the finest men around, look no further than Wintonbury Hills Golf Course. For those newcomers, I welcome the opportunity to play along with you and show you the incredible men's club that Bill Starkie and the founding WMGA members have helped develop.
Any WMGA member can nominate another member by contacting a Board member anytime during the year, or by sending an email to [email protected]. The WMGA Member of the Year will be selected from the nominees by a vote of the Board.