This award is presented annually to the member who best exemplifies what it means to be associated with the WMGA by demonstrating their integrity, enthusiasm for the game of golf, support of the association and the golf course, and quality of their golf game relative to their ability.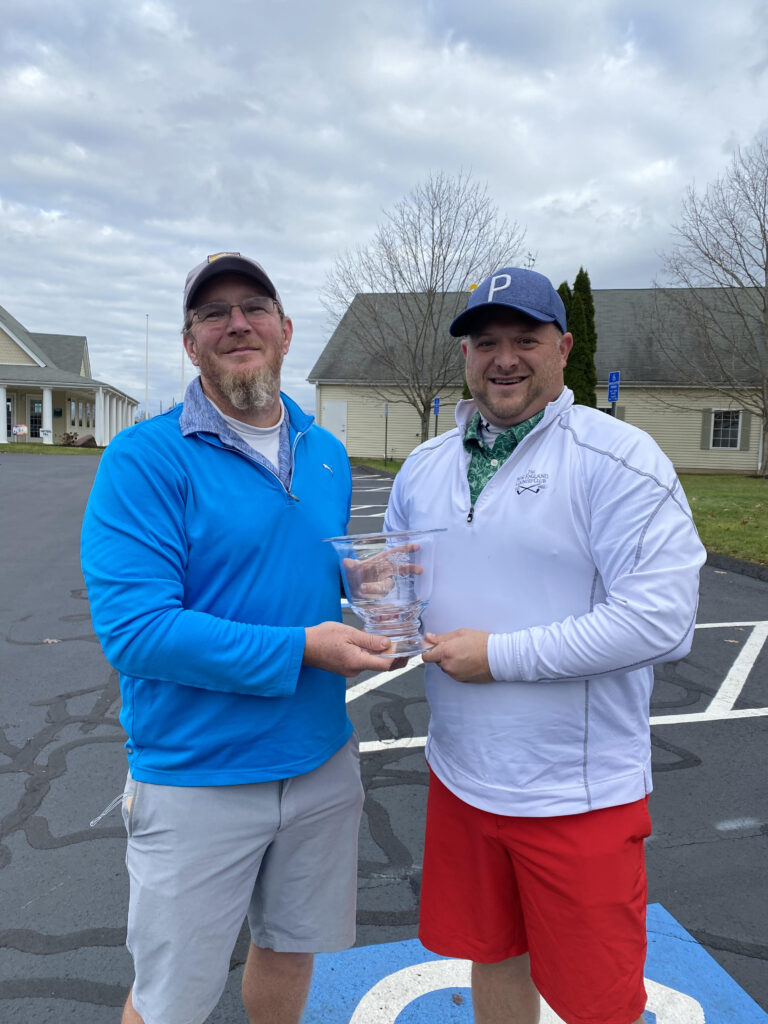 Matt, why did you choose Wintonbury Hills GC as your home course?
I've been playing WHGC since it opened and have loved it since day one. Well, except 14. The first time I played it, I was a typical washed-up, former athlete playing to about a 20 that thought golf was all about hitting it as far as you can and who cares about the rest. (Some of you would argue nothing has changed with me!) I was playing the white tees and pulled one dead left that hit a tree squarely and came back at us. It rolled on to the cart path and continued its journey all the way back to the tee and beyond where it came to rest about 10 yards behind the tee on the rough. I was lying 1 from 380 on a 370 yard hole. Long story short, it was the first of many great 5's I've made on that hole. It's a course that you like more every time you play it. It's hard to imagine not playing here regularly as long as I live in Connecticut.

When did you join the Wintonbury Men's Golf Association (WMGA)?
I think this my 6th season. I played at Tower Ridge previously and by chance got paired with Bryan Larson in an Interclub match, only to find out that we have a very close friend in common. Bryan sold me on coming over to WHGC, and John Monagan and I have been here ever since.

For you, what makes the WMGA experience special?
I've been playing organized sports and on teams for over 40 years, and can count on a couple of fingers a group of guys I've enjoyed as much as this one. I've played in several golf leagues at different courses and had small groups of guys I really liked playing with. In the WMGA however, there are dozens of guys that I'm excited about when I look at the tee sheet and see their name in my group. That doesn't happen everywhere. While I enjoy the idea of beating all of you in matches (looking at you MacKinnon…), I enjoy the idea of being your teammate more in WMGA events and especially in Interclubs.

What events do you look forward to the most?
Hands down the Novarr Tournament is my favorite. I never met Dan, but I would like to think he would be proud that the event that bears his name has provided so much joy to the WMGA. It's the event that everyone in the club rallies around. When you see on the tee sheet that a Novarr match is happening, it's the first thing you ask about when we come in for drinks after. After that, the Interclubs and Club Championship matches are a blast as well. I would play team matches every time over a stroke play singles event.

What does it mean to you to be the Bill Starkie Award winner for 2020?
This is tough to put into words. First, to receive an award named for Bill is a tremendous honor. He's a true role model of integrity and the dedication it takes to provide an opportunity for guys like us to scratch the competitive itch, while enjoying the camaraderie of being part of such a great group. I hope I can be doing half as well as he does when I'm his age.

As far as being named the award recipient itself, I am humbled to think that guys I respect and admire so much thought enough of me to receive this award. I am very grateful.
Who completes your dream foursome, and where are you playing?
I'm looking forward to the time my boys are old enough to play a full round with me and my wife. That will be the best. After that, it would be fun to play with Corey Pavin, Mark O'Meara and Mark Calcavecchia at Augusta National and be the long hitter in the group of major champions!

Any final comments?
I didn't know it at the time, but the simple decision of joining the WMGA has been one of the better ones I've ever made. Once you reach a certain age and stage of life, it's hard to slow down enough to form meaningful relationships with people amid all of the chaos that life brings. I wouldn't have believed it if you told me that joining this league would provide so many new friendships that I envision lasting a lifetime. This is a special group of people and in the immortal words of Kevin McCoy, "It's just a great group of guys!"
Any WMGA member can nominate another member by contacting a Board member anytime during the year, or by sending an email to [email protected]. The WMGA Member of the Year will be selected from the nominees by a vote of the Board.