The 2021 Bill Starkie Award was awarded posthumously to Dan Spinelli, former Handicap Chairman of the Wintonbury Men's Golf Association. To honor and remember him, Dan's three best friends answer the questions answered by past award winners.
Here are the responses from Don Tinker, Eric Neumann and Josh Orsi: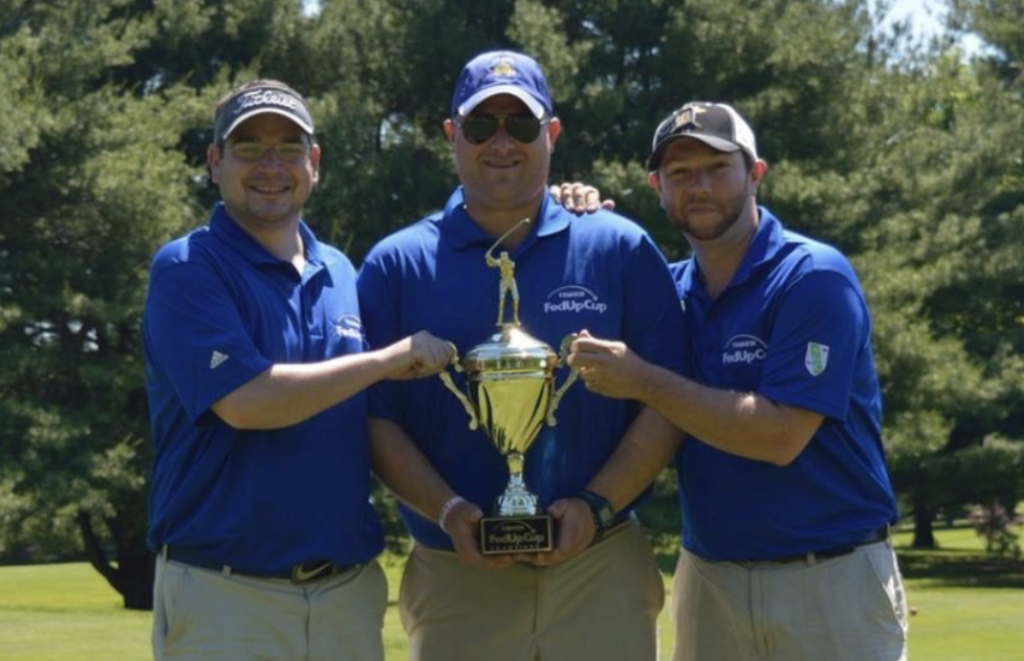 Why did Spinner choose Wintonbury Hills GC as his home course?
Don: That's a funny story…a year after Neumann joined, he finally said he wanted to but wasn't sure he could afford it. I did a quick double take and asked him "bro, are you in serious financial trouble that you haven't shared?" He replied not at all, and I told him the dues were $225 and weekly green's fees of $50 each time he played. He then got pissed he didn't know that 2-3 years earlier because he was under the impression that to join meant paying full course dues up front of $3500! We laughed and he joined the very next day.
When did Spinner join the Wintonbury Men's Golf Association (WMGA)?
Don: Spinner joined for the 2018 season, and quickly became a mainstay at the course. He played in 20 events that year and played the greatest number of events of any WMGA member in both 2019 and 2020 – missing only a single week over those two years. He joined the Board in 2019 and became the Handicap Chairman in 2020 when Bill Starkie stepped down from the role.
What made the WMGA experience special for Spinner?
Don: This is an easy one for me. The WMGA injected a renewed passion for life into Spinner's core. It was obvious to those of us close to him before he joined, Josh, Neums and his parents, Tom & Cindy. I believe that was because of the members. Kevin McCoy has always said "we have a great group of guys" and that's a fact. Spinner came to be fond of so many people in the WMGA, and in his role as Handicap Chairman he spoke to nearly everyone at some point in time. He loved that role and did it with a great deal of passion and pride. He truly could not wait until the weekend to see all his new buddies.

Neums: To me what made WMGA special to Dan had nothing to do with the golf. It was truly about the lasting relationships he made with everyone he came in contact with. Golf was simply the vessel he needed to find these relationships. Dan wasn't the most social guy out there, so watching him bloom inter-personally was really fun to see. The thing about Dan is that once you gained his trust and respect, you were there for life, and it was great to see him add so many true friends into his inner circle. In addition Dan was a walking calculator/abacus/encyclopedia. So it was great to see him embrace the role of handicap chairman. It brought him a new level of responsibility that he tackled with great sincerity and passion. It gave him something to look forward to, and you can just tell that it provided him new found confidence in himself. That in my humble opinion is why WMGA was so special to Dan.

Josh: Dan has always had a love for the game of golf. It was what initially started our friendship. He asked if I played while we were both employed at the Country Club of Farmington. I said yes and the next day we played 36 holes. When we left the CCF you can tell a piece of him changed. He just loved being around golf in any capacity. When he joined the WMGA, it was like a switch came on again. He had a renewed spring in his step and something to look forward to every weekend. He would constantly text me how his rounds went and the guys he played with and how enjoyable it was for him. Between his love, and hatred (hole 14), for the course and the great group of guys that surrounded him on a weekly basis kept him going. It was like a new Dan emerged after joining.
What events did Spinner look forward to the most?
Don: He was an Interclub King, and never missed one from the day he joined until the day he left us to play on the sprawling fairways of Heaven's National Links. Golf is an individual sport, but he just loved the team formats. He and I went to the President's Cup together and going back to our high school days would watch the Ryder Cup. We both played team sports in our youth, baseball and soccer…i believe that's what led to his love for the team events.
What does it mean to you for Spinner to be the Bill Starkie Award winner for 2021?
Don: Spinner winning an award named after a person that he used to serve when he worked at the Country Club of Farmington would have made him beam with pride. He loved Bill and loved working with him on the Handicap Committee. I'm so happy and proud of who he evolved into during his 3+ years in the WMGA not just as a golfer, but as a man. In that aspect, he's like Roberto Clemente or Reggie Lewis – those that left too soon but went out at their peak.

We were best buds for 35 years having met in kindergarten, and there's not a day that passes that I don't think of him. When Guns N Roses "Sweet Child of Mine" hits my radio, I know it's him popping in to say hi. And when my 3-year-old son, Maverick, hears that song, he yells "Uncle Spinner!" Yes, it is possible to simultaneously feel tremendous happiness for having had the time with him and sadness that he's gone.

Neums: It means the world to me to say Dan is the Bill Starkie award recipient! He embodied everything that the award entails. While Dan was a cutthroat competitor, he wanted his opponents to succeed just as much; both on the golf course and in their personal/professional lives as well. The greatest thing for me being his friend was to watch Dan's attitude about golf change from his inception to the WMGA to the very end. Dan was always an emotional person, and there was no exception to that on the golf course. Before WMGA he would get very angry over a bad shot, and have a difficult time getting over it. However, through his time in the men's club, he learned to embrace bad shots and not let them dictate his day. I believe this is credited to the "great group of guys" that we've all referred to, but also to Dan's willingness to just have fun. It was great to see this growth through the years. There wasn't a guy in the club that he didn't try to get to know on a personal level, and I would be hard pressed to find a member who wouldn't relish an opportunity to tee it up with him on any given Sunday. For that there is no better person to receive this distinction.

Josh: I believe Spinner was a great pick for this award. He encompassed what it means to be a good sport, a terrific playing partner, a swing coach, and just an all-around amazing person. It didn't matter whom he played with he had a great time being on the course with like minded individuals that he could talk to about basically anything while doing the thing he loved the most. When I think of a person that is dedicated, willing to help anyone, and available at the drop of the dime, Dan was that guy. If it weren't for him, I wouldn't have become the golfer I am today, or have the career I do today. Spinner was there for anyone who asked and that's why I feel he was the best pick for this award. I just which he could have been there to accept it personally as I know he cared a great deal for Mr. Starkie and would have been honored to be presented the award in his name.
Who would complete Spinner's dream foursome, and where are you playing?
Don: Mr S, if you're reading this, don't take it personally. It'd be Spinner, Neumann, Josh and me at Augusta National – right after The Masters finished. If it were not us as his close buddies, I know Tiger would be one of them. The other two, maybe Jordan Spieth and Justin Thomas. Think that round would still be at Augusta. I hope my first guess is right, sorry Eldrick.

Neums: As much as I'd like to say that I would be a part of Spinner's dream foursome, I think he'd probably say he's seen enough of my bad golf. I've actually had this chat with him before, and while his answer may have changed in later years, I'm going with what he said back in the day. Tiger is a given, but I'm going to keep him out for this one to go with an all Yankee group. I believe Spinner's dream foursome would be with captain Jeter, Bernie Williams, and Mariano Rivera. In watching the Open recently at St. Andrew's, I'm going with that as the dream course. Dan always loved creating different types of shots and trying to be creative with his game. I remember playing "Toshiba ball" as we referred to it in his parents' yard. Toshiba ball is a type of trainer golf ball that can be used around the house with no worry of breaking windows, siding, etc. He loved trying to hit huge hooks around the house or hitting a baby fade just to see if he could. What better course to be imaginative on than St. Andrews? That's why I'm going with the old course where golf was born.

Josh: Wow that's a tricky one. I would fist have to agree with Don. Neumann, Don Spinner and myself. Even though we played hundreds of rounds together over the years it was always the best time. In terms of course August, TPC Sawgrass, Bethpage Black are all courses I know he would have loved to play. Oakmont is another. If it weren't with us I believe his dream foursome would be Tiger, Barry Sanders, and Michael Strahan.
Any final comments?
Don: The effect the WMGA had on Spinner's life cannot be understated. His memorial service was held at Wintonbury Hills Golf Course. Part of his ashes were spread right of the 14th fairway. He loved being at the course and with its members. He was due to head to Bandon Dunes in May 2021 with Bryan Larson, Matt Harrington, Kevin McCoy, Ciaran Carr, Derek Ezovski, Steve Crossman and me. I'm sad that he didn't get that opportunity, but we did bring him out there and spread part of his ashes at the Sheep Ranch on the 16th hole – the furthest point on property into the Pacific Ocean. He would have loved being with his WMGA brothers, but we did our best to have him with us while playing. Miss him every single day.

Neums: The saying goes only the good die young, and that couldn't be more true of Dan. I feel as though I was robbed of the best years with one of my best friends, and he will be sorely missed. What I would give to tee it up with him one more time. But to be truthful, I wouldn't care if I ever golfed with him again. Dan's the kind of guy who I would have fun with watching paint dry. He was just a contagious personality to be around, and not a day goes by where I don't miss him. Love ya brother forever and always.

Josh: I know for a fact that the WMGA meant the world to Dan. I saw him slowly slipping into a place that his friends and family were not liking, and you can tell he didn't like it either. The WMGA seriously gave him a new lease on life. Every week was like Christmas for him. If I had one wish it would be to have been able to be a member at the same time so I could have spent more time playing the game we loved with hands down one of the best guys I have ever had the privilege of knowing.
Any WMGA member can nominate another member by contacting a Board member anytime during the year, or by sending an email to [email protected]. The WMGA Member of the Year will be selected from the nominees by a vote of the Board.