The 2023 Bill Starkie Award was awarded to Paul Amrose. While Paul is a talented golfer, he is an even better friend to everyone in the WMGA.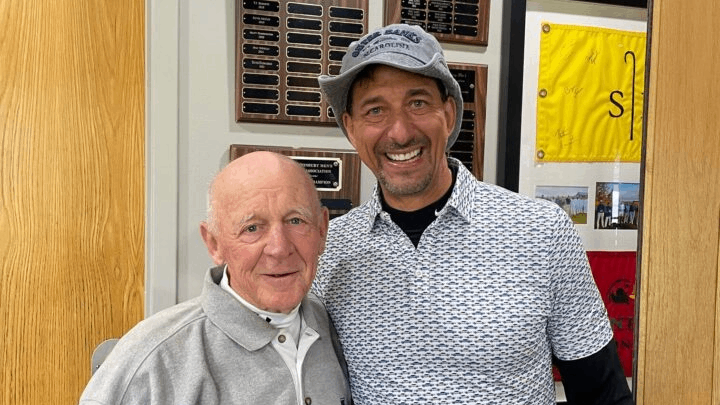 Paul Amrose – 2023 Starkie Award Winner
Paul, why did you choose Wintonbury Hills GC as your home course?
Interesting story…I moved to Canton in 2003 knowing nobody. The Shoppes were being built on the hallowed grounds of the Canton GC. My wife was caring for our 4 and 2 year old sons while I put in 10 hour workdays. Our youngest went to preschool with Mark Mansur's youngest son and the two of them became inseparable (and continue to this day 20 years later). Jennifer met Katie Mansur, a stay at home Mom who gave up her career to raise their two sons, same as Jennifer. When my wife told me of her new found friend (who are also besties to this day), she informed me of my 'man date' to meet Mark one evening… ugh! Other than when Mark fell asleep at 8 PM (May is spraying season so he was likely up since 2 AM), we also hit it off. Come to find out Mark was the superintendent at Wintonbury, so we fast became friends (much to Mark's dismay). Who would have thought back in 2004 that one day both my sons and Mark's sons would become best of friends, each of them would work maintenance for four summers at Wintonbury and be followed by my wife Jennifer as Mark's first assistant on the maintenance crew for another half a dozen years? Best part is that I reaped the benefits of their amazing crafts(wo)manship by golfing at one the premier municipal golf courses in the US for the past 20 years!
When did you join the Wintonbury Men's Golf Association (WMGA)?
In 2020, thanks to Paul Lombardo. Paul had installed the putting green in my back yard three years prior. He would see me weekly chipping around the putting green at Wintonbury and one day invited me to play with him and the guys on Wednesday and Friday afternoons. That's when I first met Bill, Ed, Jerry, Keith, Ed C, Adam and other WMGA members. When I was asked to joined the Men's Club, I assumed that the membership would be filled with guys like Judge Smails (Caddyshack). But after getting to know the Lombardo crew, I knew if the guys were like these guys, then this was definitely for me.
For you, what makes the WMGA experience special?
There's a back story, so be patient. As a kid I would ride my Western Auto 10-speed bike with my clubs hung over my shoulder on a 10 mile trek to Wayne Hills CC. I'd play 18 – 54 holes in a day, partnering with whoever had an opening in their foursome. On Sunday mornings I would play with my father or uncle and their buddies. Here I was a 14-17 year old kid hanging with adults up to 4-5x my age. I loved playing with the 'old' guys and always felt at home with them. Today, I'm technically one of those 'old guys', but my experience is much the same as it was as a teenager. I look up to guys like Bill, Ed, Heff, Ed C and Kevin because they epitomize the type of person I aspire to be when I grow up. I love the stories, the comradery, the competition and friendship. How many guys get to relive their childhood golf experiences as an adult with their buddies? The WMGA is filled with guys that I consider my friends. In fact, there is not a person in the WMGA that I would not consider my friend! So how cool is that?
What events do you look forward to the most?
I particularly enjoy the two-man competitions and the Interclub events. Throughout my life I've played or coached competitive sports and I very much enjoy the team environment. In team events you can lean on your partner, or pick him up. That's a very comforting feeling and creates a comradery that you don't have in singles events. I can't tell you how many times Danny Cahill has had to carry me, which for this hacker, is very comforting. Don't get me wrong, I love humbling Jerry mano-a-mano, but I enjoy it even more when Danny and I put a 6 & 4 whopping on Jerry & Co!
What does it mean to you to be the Bill Starkie Award winner for 2023?
Quite simply, Bill is cool! I believe for many of us, but particularly for me, Bill represents all that is good not only in golf, but as a mentor and friend. Three years ago when Bill and I first met, it was clear to me Bill is a Dude. I thought to myself, 'if I can be just a little bit like Bill maybe I'll fit in with the guys'. Based upon me being selected for this award, Bill had quite an impact on me. Winning the award is awesome, but having Bill's respect and friendship is greater than any award I could ever receive. I'm humbled to be thought of in the same light as my hero and role model, Bill Starkie!
Who completes your dream foursome, and where are you playing?
Dream foursome is tough because it's a toss-up between Kate Upton, Elin Nordegren (formerly Woods), and Brooklyn Decker versus the Lewis Mills Class of '79 triplets: Heff, McCoy & Cook. Who would not want to play with either three successful, attractive women or three older guys who are 50 years+ best of friends? There is only one course I'd want to play (again), better known as heaven on earth: Cypress Point.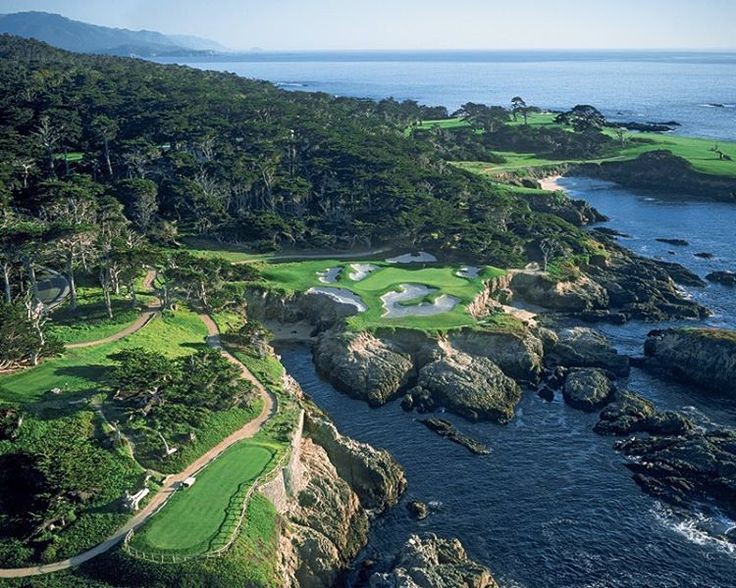 Cypress Point: 15th Hole – Par 3
Any final comments?
I can be talkative, absent minded, apparently slow (playing golf) and a knucklehead, but that's who I am. The WMGA has accepted all of me with open arms. I am thrilled to be considered a friend to so many in the Association. The WMGA is a great organization and I plan on being a part of it for as long as you'll have me. Thank you!
---
Any WMGA member can nominate another member by contacting a Board member anytime during the year, or by sending an email to [email protected]. The WMGA Bill Starkie Award Winner will be selected from the nominees by a vote of the WMGA Board.